Engineering the End of Forever
A tale of two Duke CEE researchers working to identify and obliterate the "forever chemicals" tainting North Carolina's drinking water.
It was the best of water, it was the worst of water. It was the age of pollution, it was the age of remediation. Just as a truck–sized machine built to blast concentrated sludge into clean potable water had its first successful test runs, a powerful new chemical analysis machine next door began uncovering unregulated toxins in North Carolina's drinking water.
The story of their intertwined rise to national prominence represents the struggles and solutions playing out on a global scale, and Duke CEE's efforts to help rewrite the script. Of the 80 million organic chemicals in existence, some 85,000 are used industrially in the United States. If you think the majority of these have been screened for human and environmental impacts in some way, shape or form, guess again. Only around 10,000 have been tested for health effects, and of those, only about 200 are regulated by the U.S. Environmental Protection Agency (EPA).
In the early 2010s, one class of chemicals in that small sliver gained notoriety from their potent one–two punch: they are harmful to human health and nearly impossible to degrade in the environment. Dubbed "forever chemicals," these per–and polyfluoroalkyl substances, or PFAS, have bubbled up in nonstick frying pans, water–repellent sports gear, stain–resistant rugs, cosmetics, firefighting foam and countless other consumer products since the 1940s.
But recently, researchers have begun to show evidence that these compounds are associated with cancer and reduced birth weight, among other health issues. PFAS captured the attention of Lee Ferguson, an associate professor of civil and environmental engineering at Duke, in the mid–2010s. Ferguson secured two new mass spectrometers, including an Orbitrap Fusion Lumos Tribrid LC/MS system—a highly advanced instrument that enables comprehensive chemical analysis of complex samples. Capable of providing a holistic analysis of nearly every organic pollutant present in water samples, the hypersensitive machine can also detect the barest amounts of specific pollutants researchers are looking for.
"The Orbitrap Fusion Lumos was the most powerful mass spectrometer when it came out, and we were one of the first laboratories in the world focused on environmental analysis to get one," said Ferguson, who also holds an appointment in environmental sciences and policy. "And it was serendipitous that we got it right about the same time that GenX became a hot topic in North Carolina."
North Carolina's PFAS Problem
Since 1971, DuPont and its subsequent derivative Chemours have been releasing PFAS into the Cape Fear River from a commercial production facility near Fayetteville that produces food packaging, paints, cleaning products, non-stick coatings, outdoor fabrics and firefighting foam, among other products. In the early 2000s, as the industry's PFAS of choice, known as PFOA or C8, came under the scrutiny of the EPA, the plant switched over to a similar chemical called GenX. Even though the health effects of GenX are still not fully understood, its chemical similarity to PFOA makes it suspect, and researchers have long assumed its toxicity. When DuPont made the switch, the company consented with the EPA to prevent GenX from escaping any of its manufacturing processes with "99 percent efficiency." But a 2015 study from the EPA found the substance and other, newer PFAS compounds in the Cape Fear River anyway.
The revelation set off a lightning storm, with study after study finding GenX and other PFAS compounds in places they shouldn't be, such as the Wilmington public water supply and hundreds of local wells.
"It became clear to me that the only way to get a handle on how widespread the contamination has become was to pool forces with all North Carolina researchers doing substantial PFAS work and survey the entire state to find out how much of it is in our drinking water and where it's coming from," Ferguson said. "There's never been a large-scale chemical pollutant source and distribution study done like this before anywhere in the country."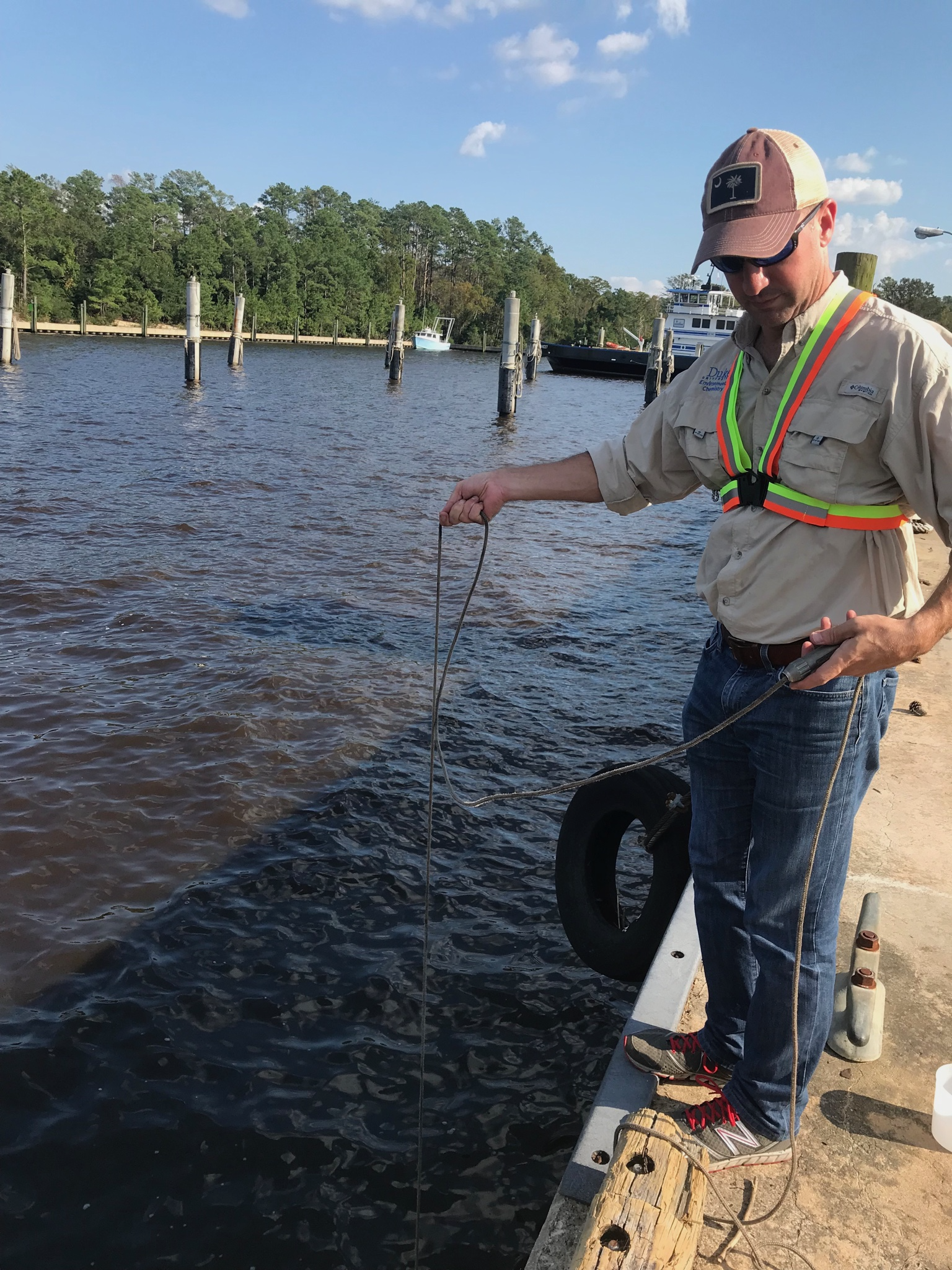 Funded by a $5 million grant, the state of North Carolina in 2018 created an ambitious statewide testing network to monitor PFAS levels in the state's drinking water. Led by Ferguson and colleagues from North Carolina State University and the University of North Carolina at Chapel Hill, the network represents a wide–ranging attempt to monitor the compounds' presence in drinking water supplies in 405 municipalities across the state. The tests have revealed high levels in some locations, including Wilmington–adjacent Brunswick County and the Orange County Water and Sewer Authority (OWASA), which serves the town of Chapel Hill.
Most communities were found to have relatively low levels. But according to recent guidelines issued by the EPA, even those "normal" levels might be much too high. In June 2022, the agency set guidelines for GenX at 10 parts per trillion, and two of the most studied PFAS compounds called PFOS and PFOA at 0.02 and 0.004 parts per trillion, respectively. Those latter levels are so low, Ferguson says, that he can't even detect them. So essentially, any detectable amount of either is too much.
"As we're mapping all of these compounds out across the state and learning more about them, the critical next step is to figure out effective ways to treat these PFAS wastes," Ferguson said. "It just so happened that one such technology was already being built and tested right behind my lab."
Beyond Boiling:
Obliterating
PFAS
With a Pressure Cooker on Steroids
Since 2013, Marc Deshusses, professor of civil and environmental engineering at Duke, has been developing what he calls a "pressure cooker on steroids" in a standard 20–foot shipping container behind Hudson Hall. Based on the concept of supercritical water oxidation—or SCWO, pronounced "squow" to those in the business—the technology can turn any organic waste into clean water, carbon dioxide, trace salts and energy in mere seconds.
The project was one of several on Duke's campus funded by the Bill & Melinda Gates Foundation's "Reinvent The Toilet" program. Aimed at developing a portfolio of technologies that could help bring improved sanitation to four billion people worldwide, many of the projects emerging from the nearly decade's worth of funding are finding potential uses in the richer nations of the world as well. 
"A lot of treatment options don't fully remediate PFAS and end up generating other unwanted byproducts, but our technology is one of the few that can fully destroy all PFAS. And according to the new guidelines, you could contaminate all of the Great Lakes with just a few buckets of PFOA, so we've been getting a lot of inquiries."
According to Ferguson, PFAS is so difficult to destroy because of its extremely tenacious carbon–fluorine bonds. The same chemical factors that make it so useful in industrial applications make it difficult to degrade. No known biological organisms can cleave all those carbon–fluorine bonds, and light can't degrade them either. Take away the two primary mechanisms to break chemicals down in the environment, and it becomes clear why these chemicals persist in our waters for so long.
When trying to use advanced engineered treatment methods on such strong chemical bonds, researchers have to resort to extreme methods. To turn PFAS into water, carbon dioxide and fluoride—all of which are harmless byproducts—one must break every single carbon–fluorine bond in the molecule. While there are some acids that can manage the trick, the materials involved are also harmful to the environment.
"That's why SCWO is so promising," Ferguson said. "It has enough energy and specificity to completely destroy PFAS molecules. It's one of the very few technologies that is able to do that."
"The technology is there. The challenge is really in engineering a system that can do it reliably and economically," Deshusses added. "The potential of SCWO is enormous, because you can build units that are very compact and embed them in communities, or you can build large units that can treat the waste of small cities."
SCWO works by using high pressure and temperature—over 220 times atmospheric pressure and above 374 degrees Celsius—to break down complex organic compounds into clean water, carbon dioxide, and trace salts and minerals. While the idea has been around for many decades, the technology is only now maturing to the point where large installations capable of treating several tons of waste a day are efficient enough to be economically viable.
Over the course of several years, Deshusses and his research team built out a prototype SCWO unit and used it to refine their designs and operation parameters. The result of these efforts is a spinoff company called 374Water, which was uplisted to the Nasdaq Stock Exchange in June 2022. While Deshusses has been working with his company to produce larger units to deploy in California and Israel to prove their potential, he's also been working with Ferguson to refine the technology's operating conditions to more efficiently obliterate PFAS with the help of funding from the Department of Defense.
While it will still be some time before SCWO technology can reach its full potential, it is already well on its way. For starters, 374Water has sold two commercial units and is scaling up their production as well as their designs to treat 30 or, eventually, even 200 tons of waste per day. While that's a small amount compared to what city-sized treatment facilities require, units of this size could treat dense waste coming directly out of a factory or waste that has been concentrated by separate technologies.
That's good news, as a 2015 study from Harvard University detected PFAS in the water supplies for six million people across the country, and that number is almost certainly much higher today.